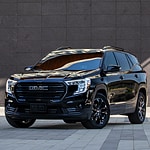 The 2023 GMC Terrain has a towing capacity of 1,500 lbs. That's the maximum weight that the Terrain can pull. Towing capacity may come in handy if you have a boat, camper or other large item that needs to be transported.
There's ample cargo space in the back, with a maximum volume of 64.7 cubic feet. You'll be able to fit all kinds of items inside this SUV, no problem. It also has some nice interior room, with seating for up to five passengers comfortably. The front seats have plenty of legroom and headroom, too, so you won't feel cramped when driving around town or taking the family on a road trip!
When it comes to driver and passenger space, the Terrain has adequate room for the average-sized individual. The front seats are comfortable and adjustable, with seat back height, angle, and bottom height all available for adjustment. These features allow drivers to find their ideal driving position so that they can comfortably share the vehicle with passengers of all shapes and sizes.